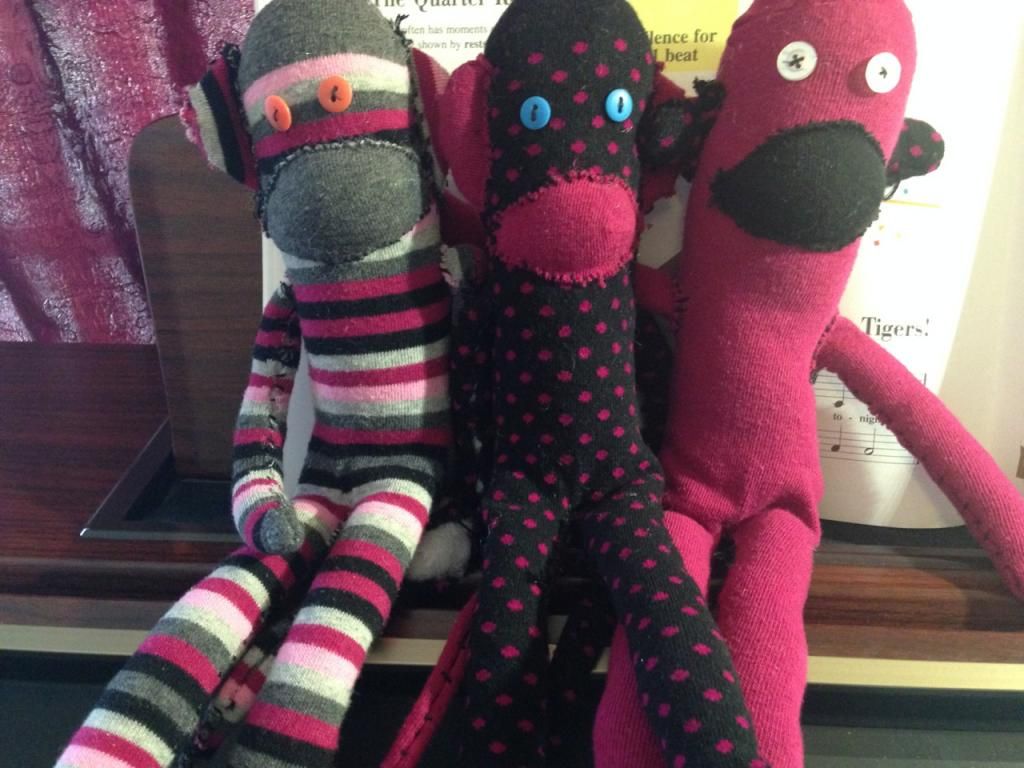 Several years ago, I made a trio of sock monkeys just for fun.  Since then, they have lived on my desk in my studio.  Sometimes they would hide in goofy places for piano students to find and occasionally, they would help teach a concept.
Most Kindermusik classes end with a rocking song where the caregiver is supposed to sit with their child and rock them while quiet music is playing.  In my very first Kindermusik class was made up of three 1.5 year old girls and when it came time for the rocking song, they were completely uninterested in sitting in their moms' laps.  As they started to wander around the room, I had to think quickly, so I grabbed the sock monkeys and told the little girls that they needed to rock the monkeys to sleep.  It worked perfectly – they were really into rocking the monkeys and sat quietly until the song was over.  Ever since then, the monkeys have come out to help during every rocking song.  It has become a favorite and predictable part of my classes!
My class has now grown to more than 3 students so I've need to add some sock monkeys to the barrel. (side note:  did you know barrel is the official term for a group of monkeys?  I enjoyed reading this list of group animal names!)
I have a few smaller pre-made sock monkeys, but not enough for all the Kindermusik kiddos.
I ordered some fun polka dot socks and voila!
New sock monkeys!