My studio is 2 weeks in to our switch from a paper assignment book to Better Practice App. So far, I've had nothing but good reviews from students and parents. As the teacher, I pretty much love everything about it!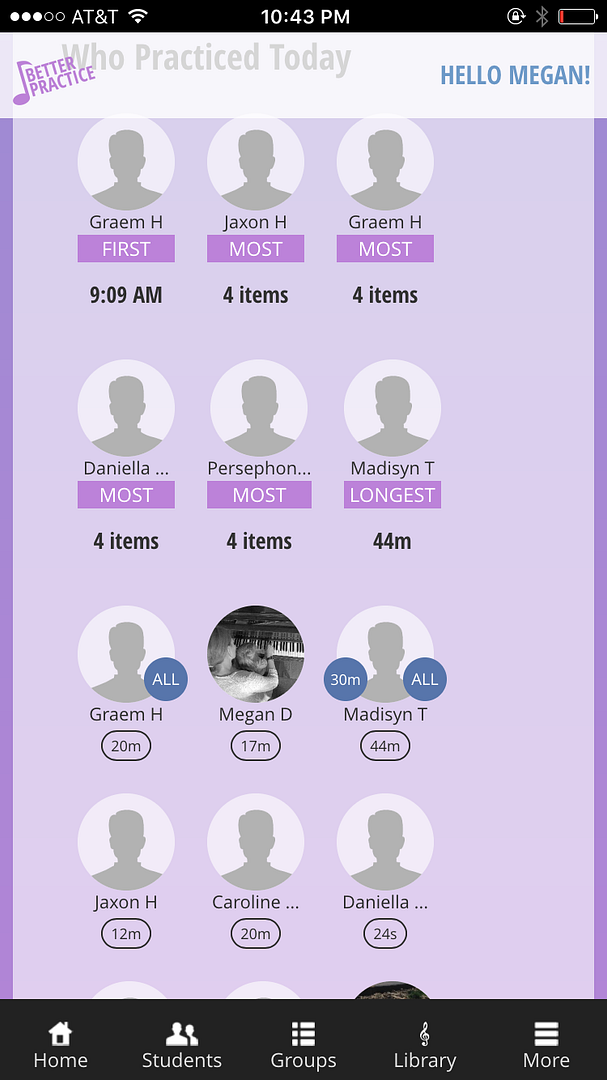 I really enjoy checking in several times a day and it's so fun to see students' names and pictures pop up showing that they have practiced. Students can earn a spot on the leaderboard for being the first to practice each day, practicing the most songs or practicing for the longest length of time. They can also earn badges for milestones such as 30 minutes or an hour of practice or if they practice all of their songs. These badges are definitely motivating to my students, and to me as well!
Personally, I have loved the accountability of the app to keep up with practicing along side my students. I'm not working on anything huge right now, but knowing that my students can check in on my practicing has definitely inspired me to keep up my chops! I had gotten into a bad habit of just practicing music that I needed to learn in order to teach it. I've loved working on music for my own enjoyment again! I know I can relate with my students better when I have my own practicing experiences, rather than just practicing as part of my job.
One of the best parts of using an app is that it is dynamic and interactive. As I think of things throughout the week, I can pull out the app and add on to a students assignment. There have been quite a few times that I have run across a YouTube video that I thought would help a student and I can easily attach it to a students assignment mid-week. Also, as I think of music that I'd like to teach to students, I can schedule it as a future assignment. This has been a tremendous help to me! My teaching/creativity wheels are almost always turning, so it has been really nice that as I think of ideas or resources throughout the week, I can immediately put them  where they can be easily accessed by me or my student. Then, when I finally sit down to work on lesson plans, a lot of my work is already done.
Many of my students have also already been using the messaging feature. I have always welcomed my students to call or text if they have a question, but they don't often take me up on this offer. They've already asked me some great questions over through the app and it's nice to not have to wait until the next lesson to address them. I also make a point to send occasional messages just to cheer a student on when I notice they've been practicing well.
I can't wait to continue exploring and using Better Practice App this year! There are really so many other great features that we haven't even used yet! It's a little overwhelming to think of everything we can do with this app, but even if I just end up using a handful of the features, I think it is well worth it!
If you'd like to try out Better Practice App in your own studio, follow this link to try it free for a month!