The 2016-2017 school year starts for me and my piano students next week. I have a few fun things up my sleeve for this school year, but one of the things I'm most excited about is making the switch from a paper assignment book to Better Practice App. I've always been a huge fan of a good paper assignment book, but I'm ready to change things up this year, and I think my students are too!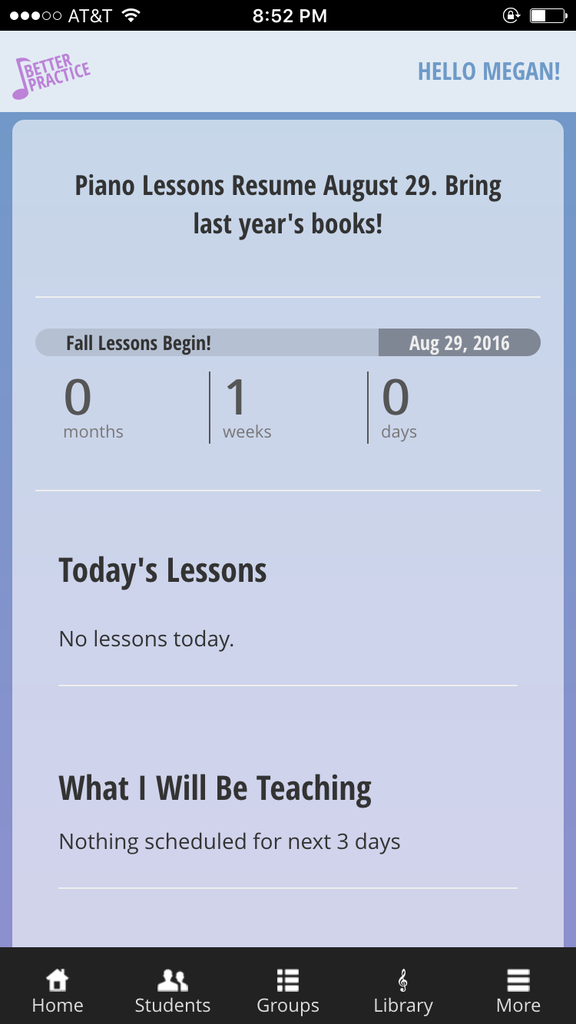 I decided to jump in with both feet and have all of my students use Better Practice App for the full school year. I've been playing around with it for the past few days and I love all of the features it has. It's kind of like of like a fitness tracker for piano practicing. There are all sorts of fun stats that you can see about each practice session as well as overall trends in each students' practicing. I'm really excited about the community aspect of the app. I think my students will enjoy stirring up a little friendly competition by keeping an eye on each other's stats.
As I've explored it, a few things stand out that will be super handy for me as the teacher. One is the ability to set reminders for specific students. This is a pretty small feature, but it means no more post-it notes cluttering my desk and piano! I also like that I can track my own practicing on it. My practice time is pretty minimal these days, but ever since I've started using the app, I've actually practiced everyday!
Better Practice is also unique because it has the ability to suggest songs for a student to practice beyond what I assign. Once the student completes their weekly assignment, app draws from past assignments to help students maintain their repertoire. It's amazing how quickly students move on and forget old songs, so I can't wait to see how this plays out for my students!
I'll be sure to report back in a couple of weeks once we all get the hang of it!
If you're a teacher and you'd like to try Better Practice in your own studio, follow this link to try it out for free for a month!